Sanaa: Houthi rebels who have captured some parts of Yemen erupted in joy after realizing that they are going to face Pakistan Army.
The clash between Houthi rebels and Yemen army is just a clash between two unknown communities. The clash escalated when Yemeni President fled to the only secular country in the world, Saudi Arabia. Saudi along with coalition of countries that have a particular non-existent sect in majority, is now attacking the rebels. Pakistan who also have that sect in majority has pledged allegiance to Saudi and has sent its soldiers across different borders this time.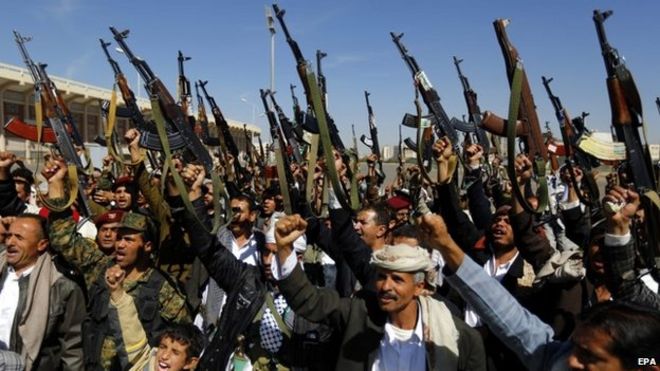 Houthi rebels who were scared all these days and suffering casualties from the Saudi coalition attack got a breath of fresh air, when they came to know that they are going to fight against Pakistan.
Speaking to our correspondent, one commander of Houthi said, "This is an absolutely delightful news. History has taught us that Pakistan army never wins any battle. We are now going to fight with more confidence. We just need to use the strategy of Indian army and we can just destroy Pakistani army in a matter of minutes."
However, an Expert on Middle east affairs has showered praise on Nawaz Sharif , "This is a masterstroke from Pakistan PM Nawaz Sharif. Pakistan is always a few steps from an Army coup. By now sending Army to Yemen, Sharif can spend some days in relief. We all know that war in Middle East never ends and this war will never end. Pakistan army will be losing their strength in Yemen and Sharif can hold on to power forever. Absolute brilliance!"
He continued, "But I am worried about the state of Pakistani soldiers fighting alongside greater nations like Saudi and UAE. Will they have unity in the battle? How can an Arab allow himself to fight alongside non-Arabs? These are questions that will be answered in few days."