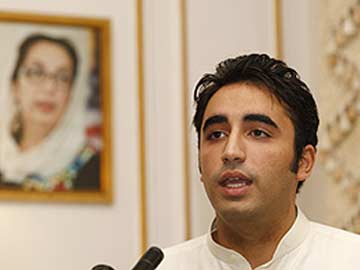 In the recent rally in Multan by Bilawal Bhutto Zardari, the 'Gen Next' politician of Pakistan, party workers encouraged him by chanting "बिलावल नही ये आँधी है,   दूसरा राहुल गाँधी है " (Bilawal nahi yeh aandhi hai, dusra Rahul Gandhi hai) slogan. Bilawal seemed quite impressed by the slogan and thanked them by waving his hand. Other party leaders like Yousaf Raza Gilani and Raja Pervaiz Asharaf, who are competing with each other in order to do a Digvijay singh, also looked happy and flanked party workers. The whole Pakistan is delighted by PPP party workers sense of comparison.
Although Bilawal and Rahul come from a similar background but Bilawal never said anything as great as Rahul say. But in Multan rally he made a speech which put him equal to Rahul. Pakistan have had quite a few good leaders and big personalities but none of them were great enough to be compared to Rahul Gandhi. Bilawal has filled this place in Pakistan politics.
For Bilawal,it will not be easy to maintain this position. It brings it's own challenges. If Bilawal wants to survive at this position he will need to bring forward Digvijay Singh, Manish Tiwary, Abhisek Manu Singhavi of Pakistan. This can give birth to a new stream of politics and politicians in Pakistan now. Although Yousaf Raza Gilani and Raja Pervaiz Asharaf are strong contender to become Digvijay Singh, who will occupy other's position is yet to be seen.