Mumbai: Immediately after it was announced that Ishant Sharma has been selected in the squad for South Africa tour starting from 5th Dec, Indian cricket fans started bashing the BCCI selection committee on a popular microblogging website. Upon requested by BCCI, later the IFC (Ishant Sharma Fan Club) released a press note justifying why Ishant Sharma deserved a position in the Indian Squad.
As per the press note, Ishant Sharma has got a new hairstyle and a special type of shampoo to maintain the tone of his hair. It further says, the hair on his left and right hand side of the scull have been given a shape such that while bowling it creates air pressure difference on the two sides of the ball in air. This pressure difference will cause the ball to move in air irrespective of the climate, condition of the ball or the seam position. The IFC claims that with this hairstyle Ishant Sharma can reverse swing the ball right from the first over of the match.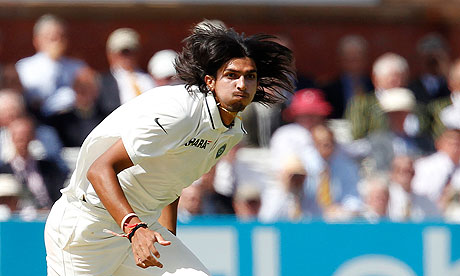 Upon contacting IFC for more details on the new hairstyle, they declined to offer more details. However as you can see in the photo Ishant has less voluminous hair on his right hand side compared to the left. This appears to be the primary reason for creating the air pressure difference.
We also understand that the barber who did the haircut has applied for a patent however there is a confusion between IFC and the barber. An IFC member said, "The haircut was designed by our core committee and the barber just cut the hair as per the design. How can he apply for the patent? We are looking for legal ways prevent him from applying for the patent".
PS: The author can be contacted on his twitter handle @sameerbhangale