Ello has gone viral, and apart from the normal people who are dying to get into it, the social networking giant Facebook CEO Mark Zuckerberg also seems to be interested. He updated his status, speaking about Ello, and he remarked that it is a brilliant idea.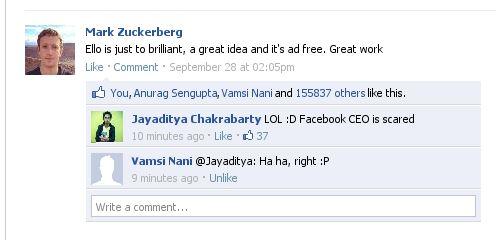 The new social network Ello has been viral for the lat 24 hours and due to that viral response, Ello management has suspended all users to invite more and more people, this is some kind of buzz that we have not seen about a new social networking site for a couple of years.
Tomorrow will be the last day, some people will be able to log on to Orkut as Google thinks that Orkut is now useless and they should concentrate on Google+. But the fact is that, Google+ is even a bigger failure, which didn't get popularity at all. Especially in India, the condition is worse. In a recent online survey on facebook users in major metro cities including Delhi, Mumbai, Channai, Kolkata and Bangalore shows that only 17% of the Facebook users use Google+ frequently. So, as Ello has suspended new invitation the future of this new social network is still dark. Right after getting this news, Mark Zuckerberg again posted on Facebook about his thinking over the strategy Ello is using.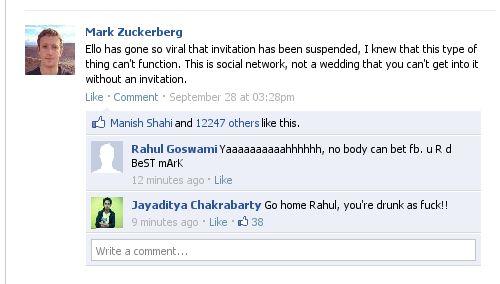 He says that the invitation only feature is not going to work for a new social networking website, for now they need to be popular rather than restricting people to join in. But Mark Zuckerberg did not utter a single word about what the restrictions lifting on the Facebook users' privacy affected Facebook in a bad way and also the free policy for joining on Facebook led to a large number of fake profiles. In the Facebook's Bug Bounty contest it was found that India is the most vulnerable country in case of spamming and various fake activities across Facebook. While most people think that Mark Zuckerberg is the only genius there was a virtual 3rd world war across the comments section under his status and due to heavy traffic, he deactivated his profile for a little while, but he came back and this time, he seemed to be pretty happy watching the discussion going on, about Ello on Facebook and he also hinted that he may buy this website and this time, he will keep his word to the full extent. It will be ad free and he won't let Sean Parker get into Ello and buy shares, so that he doesn't need to face any controversy over Sean's past history.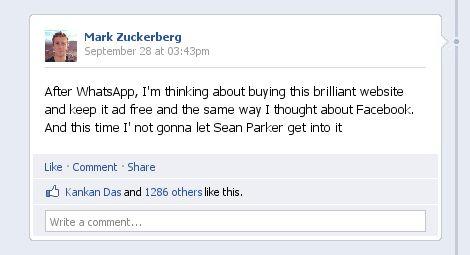 So, one thing is almost clear that Mark is gonna be the boss of the social networking world if he buys Ello, though he has not confirmed it yet to media. On a video call to igadgetsworld.com, which is a growing tech site in India, he remarked that he has made some mistakes in the past and he believes that those mistakes have made him stronger and wiser. "Those mistakes taught me great lessons which I will remember as long as I'm the CEO and will try to fulfill the needs of people to the best possible extent.", Mark said. He also spoke about Facebook's acquisition of WhatsApp and the effect. Seems like he still feel guilty for making this deal, as when WhatsApp went down, many people made it a viral topic on Facebook and even on Twitter, they made some bad memes of Mark and blamed him for shutting down WhatsApp so that people are bound to use Messenger which was not so popular. But, Mark said that Facebook had been working for a better Messenger for a long time and these thoughts reflected on his Facebook also.