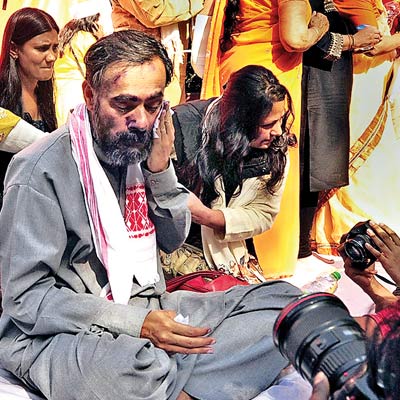 The AAP leader Yogendra Yadav is still busy analyzing  the Poll data provided by the Election Commission and his unpublished exit polls data.
It seems sure to YY  that AAP may have become a "Ashutosh like spent force" . His own election in Gurgaon seems to be doubtful. He is not sure whether CSDS (Centre for the Study of Developing Societies) will utilize his services again as of  his affliation to a political party. His chances of  return to University Grant Commission is nil. With the impending threat of Mountain -King "Giri Raj Singh " impending YY seems to be in dilemma.
However not all is bleak for the renowned ex psephologist. NASA has offered a job to Mr.YY. NASA which has seen a series of failures in recent times is keen on hiring YY. It is well known that National Aeronautics and Space Administration practices Cause-Effect diagram to analyze it's failures.
The fish- bone diagram or Ishikawa diagram also is known as Why-Why analysis. While the actual solution of common problems can be found after two or three "Whys" , NASA needs use of five or six "Whys" to solve it's technical problems. It realizes the fact that YY  can ensure saving of time in analysis as he comes with two Ys.
NASA is also upbeat that Mr. Yadav can be handy in analyzing the huge amount of data without inquiring of source, raw data and method of collection.