Delhi 10 Janpath: Rahul Gandhi surprised everyone in country by announcing that he's going to retire after 2014 loksabha polls.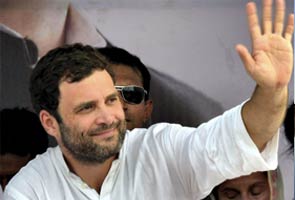 This caused a huge rage in RGIFC(Rahul Gandhi Imaginary Fan Club aka Dreamers club) who has this excellent caption "we keep dreaming". They started #ThankYouRahul trend in twitter and sending personalized autographs for everyone who tweeted this tag or dint!
When we asked Mr.Digvijay Singh about Rahul's statement,he replied "Yeah,even I'm surprised about his decision.I thought he's writing party agenda during nights,but he's actually working on his retirement speech. Still  we respect his every move.We are trying to ask Election Commission to either give an easy opponent to Rahul baba and exempt all other parties from this elections or at least remove all other buttons except congress's from EVMs. We hope everyone votes for us and make this a memorable farewell for him."
We interviewed Modiji briefly about Rahul's statement,he said "We respect his decision too.Sadly, we definitely can't let him win."  '#SorryRahul'  he tweeted immediately.
While all the media channels turned into Arnab mode and kept asking "Mr.Rahul,why do you want to retire?The nation wants to know.", we stalked RG into his house and found him looking at the laminated personalized autograph of Sachin which he procured through his fake twitter account.And he said with a smile "This is how it should be done". #GoodJobRahul