In a surprising turn of events, the ex-President of the BJP (and messiha for Halwais across the globe), Shri Nitin Gadkari, has been offered the brand ambassadorship of a leading scooter brand.
Speaking exclusively to Faking News, Rahul Vajaj, CEO of India's leading scooter brand said, "Mr. Gadkari has conclusively proven the strength of our design. Earlier, we would have to conduct extensive quality tests, and undergo severe auditing in order to establish the strength of our products. But this single trip by Mr. Gadkari has proven beyond doubt that our scooters are the strongest – a simple look at this image has proved beyond doubt to our customers that if Mr. Gadkari can ride our scooter, anyone can! Our sales for this quarter have jumped by 200% already."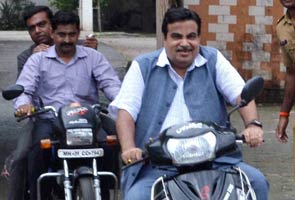 BJP spokesperson Meenakshi Vekhi has said that this is an excellent example of the sort of good economic policies followed by the NDA. "The rise in sales shows that even a simple step by the BJP can drastically improve the economy. Mr. Gadkari has always been pro-industrialization and pro-poor. You must remember that even in the Purti group, it was Mr. Gadkari's driver who benefited. This shows that Mr. Gadkari has always supported the automobile sector, something which the current regime has utterly neglected." said a vindicated Mr. Vekshi.
The Prime Minister has responded to this by saying, "If we all work hard, we can all achieve design strengths of this quality."
Meanwhile, Mr. Digvijay Singh has used this opportunity to point out that this incident conclusively proves that Mr. Modi who is not pro-people. Said Mr. Singh, "Yaar, with the sort of economic policies followed by UPA-2, the upper and middle class is no longer capable of buying cars. Even that Ambani chap was seen sharing an ambassador with the FM. Hence, the obvious vehical of choice for the people of the country is the scooter. Have you ever seen Mr. Modi ride a scooter? No! That proves that he is anti-people. More over, the scooter should have been green in color. The maroon colored scooter shows that the BJP is incapable of including minorities."