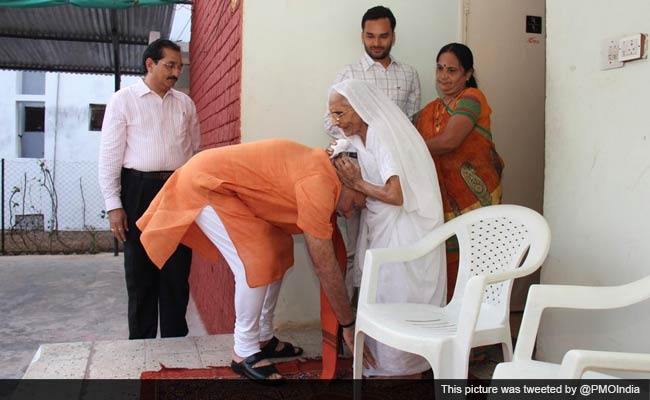 Mumbai  Narendra Modi, who turned  64 yesterday, visited his mother in Gandhinagar to seek her blessings. It was reported that he went to see his mother without any security vehicles accompanying him; it was just him, some photographers and a social media team that uploaded the picture in 10 minutes.
Team Modi organized an elaborate Gujrati banquet on the banks of the Sabarmati to celebrate the occasion .Chinese President Xi Jinping, who started his India tour yesterday, was  one of the prominent guests to be present at the ceremony. However, China's presence at the banquet  got Japanese  Prime Minister Shinzo Abe worried about his BFF status with Narendra Modi, he called Modi  last night at midnight to  wish him before anybody else could but had to wait for 15 minutes on hold because Pranab Mukherjee beat him to it.
Narendra Modi had asked the country not to celebrate his birthday  but instead spend on J&K relief funds. He requested his party members not to write 'Happy Birthday' on his cake and refused to celebrate his birthday while Kashmir got flooded. This  confused a few BJP workers, after an emergency meeting, they decided to give him a neutral cake. Something that won't appear too happy or cheery.
Tarla Dalal's sous  chef  Simple Patel, who made a name for her self by winning reality T.V show "Who can make Gujrati Food Blander Than It Already Is' last year, was in charge of designing and baking the cake. After a lot of brainstorming with BJP workers, Simple simply wrote 'China Se log aaye hai, khaa hi lijiye' on the neutral cake.
"The party is still in shock after their unexpectedly poor performance in the by-elections.Last night was a moral boost for all the party members.We wanted a modest birthday for out great leader. Five A.C tents were put up by the Sabarmati and a few foreign dignitaries were invited. Guests were served national delicacies like Khaman Dhokla and Normal Dhokla, along with chatni and dhokla'. There were cultural dance performances from all over the country,  performed by local Gujrati dancers," explained Amit Shah, the man who made a name for himself in the BJP for his event management skills.