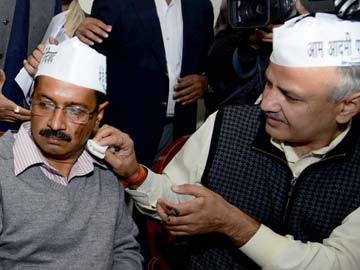 NEW DELHI:  In the dramatic events which unfolded at Arvind Kejrival's press conference here in the capital, corrective measures were taken by the Aam Aadmi Party (AAP) leaders which included a brand new "Aam Aadmi Topi" for the party chief.
Earlier in the day, Walnekar, a self-proclaimed BJP activist from Maharashtra used ink as his way of protesting in the AAP chief's press conference. Walnekar, while talking to the press present at that time, said that he did not like the trademark Anna Hazare 'topi' to be used by AAP leaders. Meanwhile, Anna Hazare wrote a letter to Kejriwal expressing his objection to AAP using his name in their campaign. Whether Anna Hazare mentioned about his 'topi', is still unclear.
Later, speaking to the media, Kejriwal said he is feeling like "aam aadmi" again after receiving the brand new 'topi'. "This is called as Gandhi topi, not Anna topi.", he said. Rahul Gandhi, who reportedly does not like to wear the 'topi' often, has not expressed his views (as usual) about the use of this topi by people outside the Gandhi family.
While BJP spokesperson has denied that Walnekar is a BJP worker as he was not wearing anything saffron.