After scores of votebank  socialist policies have failed to deliver the elusive third term for the UPA , Ms. Sonia, the chairperson has called for Direct Bribe transfer scheme to be implemented in the parliament.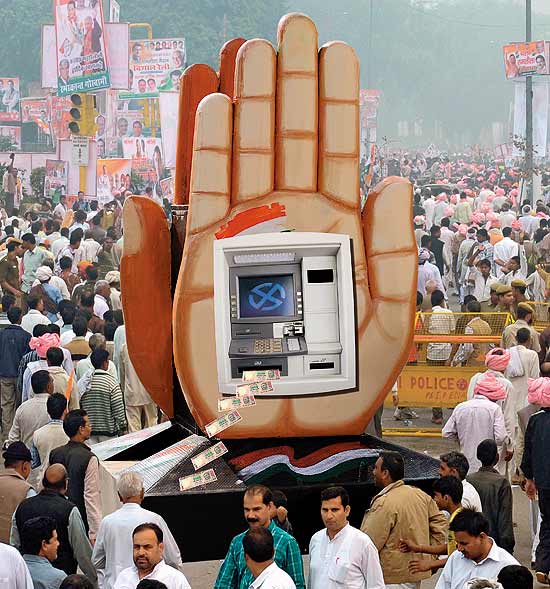 This move, which is being called yet another game changer by the UPA, is expected to face criticism over its timing by the main opposition party.  The stock exchange has risen to record high, and dollar has fallen by ten rupees by this unexpected reform news. Congress spokesperson has congratulated Ms. Sonia Gandhi for her views of reforms.
Reacting to media questions, Mr. Digvijay Singh has said, it will usher in a new era of reforms, imagine long wait time of attaining clearance to get reduce because the Bribes would automatically be transferred to persons account. Mr Chidambaram has also called for FDI in bribes, so that the bribes be deposited directly in Indian banks rather than swiss banks, leading to growth and strong rupee.
Aam Aadmi has also welcomed this move, as this will ensure that they can deposit bribes directly to the Policemans account thereby saving the hassle of keeping money to be paid at each check post.  Samajwadi party has claimed the bill is against the farmers and they will oppose this. Meanwhile, leader of opposition has called for a debate in the parliament so that it could be amended by proper debate.
Calling it pro-poor corrupt people, Manmohan singh is mulling ordinance route so that opposition doesn't stall the proceeding.