Indore: Madhya Pradesh BJP Home Minister's controversial remark has got him back in the news ….. again.
Babulal Gaur went on record to say that "Drinking is a Fundamental Right" and the Social Media went on its usual outrage.
Just to remind everyone, this is the same guy who had told the wife of a Russian Leader that he cant teach her how to wear a Dhoti but he can certainly teach her how to untie one, that too later on, not now (boley to, Akele mein?) !!!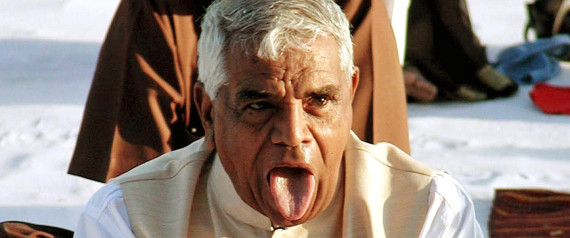 One look at Babulal Gaur's pic and you would know why the Russian Lady passed on that offer.
However, a lot of people did support his statement……..The Drinking one !!! Not the Dhoti one !!
When contacted by my drunk sources, Baburao Ganpatrao Apte quickly adjusted his glasses and said "Aaila I always used to say that one should have a tank filled with Daru in their house. I said that way back in 2000".
Its also been reported that, Vijay Mallya, trying to save his failing company is actually planning to propose to make this Fundamental Right, Compulsory. He is coming up with the slogan "A Drink A Day keeps you Happy and Gay"
Hearing Mallya's comments, Kingfisher has immediately printed the next batch of their bottles in Rainbow Colors, before Mallya could explain that he didn't mean THAT Gay 😛
Rumours are, that RaGa is planning to do a Padyatra from Gujarat to Madhya Pradesh with all of his 23 supporters to fight for the fundamental rights of the Gujaratis who have been denied this right since ages now.
"Congress got in the Right To Information !!! And we will get in the Right to Drinking", RaGa thundered, while on the phone with his Travel Agent booking his next trip to Bangkok.
My sources tried to contact Arnab Goswami but he was busy trying to figure out how he could link this particular statement to the #LalitGate and Vasundhara Raje in some way or the other.
They ran away when they heard "BREAKING NEWS BREAKING NEWS" being screamed out from Arnab's office.
Surprisingly, no one has demanded the resignation of PM Modi as yet, but the week's not over yet, so there is still a chance of that happening .
Disclaimer: My Drunk Sources which had gone to investigate this story in Madhya Pradesh seem to have exercised their Fundamental Right a wee bit too much and are currently missing. Look in the Gutters/Drains on the MP/Maharashtra Border for better chances of finding them. If anyone finds them, please be kind enough to give them some Lime Juice and a Quarter of "Utara". Thanks.