Chennai: According to our dedicated source from the city here, Prime Minister Narendra Modi had been heavily shaken to the core by the pamphlets issued by Ambedkar-Periyar study circle (APSC) in Indian Institute of Technology – Madras.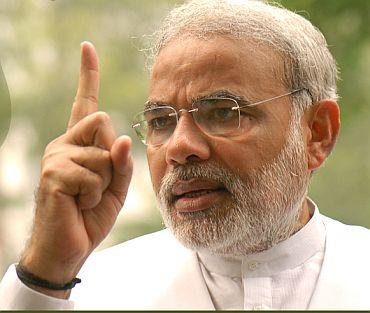 APSC conducted a seminar last week in the campus here, debating about the failure of Modi government for the past 67 years and about the secret mission of RSS-BJP in installing Brahminical hegemony across the country. After the event, pamphlets were issued in the campus calling for rationalism and to wait for the second coming of Je to implement what Ambedkar said regarding the annihilation of caste. This had reached the ears of Modi who was said to have been chilled by the criticism of his works in it.
Speaking to us via phone, one of our sources who revealed that he had never left Chennai in his life, said, "I myself saw Modi in shock mode after reading the pamphlet. The RSS agents in IIT campus had sneaked the APSC pamphlet to Delhi and handed it over to Modi. He stood up, received the pamphlet, read it and sat down in shock mode. He broke sweats. He removed his spectacles and cleaned it. He took nearby glass of water and drank it fully and threw the glass. He was seething with anger after few moments of shock. I'm sure he could not bear reading the criticism of his policies in that tiny pamphlet."
He continued, "Modi called his secretary and gave pamphlet to him. He then directed him to ban the study group. Clear proof of rising fascism. Leaving aside the fact that he was criticized for the past thirteen years, this pamphlet must had been shocking to him. We will not let this fascism to continue. We will continue criticising Modi and his government until he stops stifling our criticism and we will continue dissenting until Modi stops punishing the dissent."
Clearly, Modi who had faced heavy barrages of criticism for the past thirteen years, is now shell shocked because of a tiny pamphlet being issued by a group of students. Kahan hai achche din?