With the recent onset of a new trend of slapping the chief of AAP, the party has decided to charge a fees as a penalty from all those who slap Arvind Kejriwal.
Till now all such protesters were being dealt by with thrashings from the party workers. However, with AK-49 not wanting to cause violence, the party has decided to penalise such protesters in order to add more money to the party account.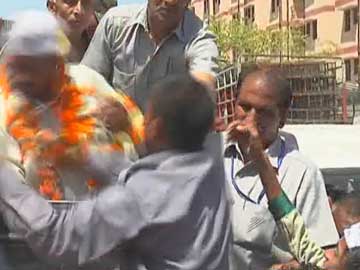 AAP leaders have time and again been molested be it Ink smearing/throwing or slapping. But each and every time the reaction from the party has been similar. First they thrash the protester with all party workers they have got in that area and then they accuse BJP of orchestrated such attacks. When Ink was first thrown on Arvind Kejriwal, he tweeted saying that such had happened. He also tweeted his followers not to thrash the protester and made such request on twitter, which obviously the party workers had no chance of checking right then. So, they went ahead and thrashed the guy anyway. But in the recent events of an Auto Driver slapping AK-49 and getting thrashed, the party people have decided to adopt a new technique in curbing such menace.
With the new policies to be employed, any person who is to commit a crime against the leaders of AAP have to pay a hefty penalty which will be in the form of donation to the party fund.
That is to say if a person is to throw Ink at a leader, then that person would be thrashed plus the party workers would extort Rs.10,000 from the person as a penalty which would then go down as party funds under the person's name. Similarly a person who smears Ink on someone's face and thus having gained personal touch with the leaders would have to bear the thrashings of the party workers and cough up a sum of Rs. 20,000 for donation to the party.
However, the final act of which the AAP has high hopes and wishes to extract the most money is slapping. If a person slaps an AAP leader then he would have to endure the party workers' thrashing as well as give the AAP Rs. 50,000 as a donation. But people slapping Arvind Kejriwal, their PM candidate would have to be ready to get thrashed from the AAP leaders plus get a personal mention from AK on his twitter page asking his party workers not to thrash him. And after all this, it would cost the person a mere Rs. 1 Lac as a party donations.
So, people willing to slap,throw ink or do any other such stuff with AAP leaders, be prepared with a heavy pocket in order to be able to do so.