By Chennai Express It is just a hour drive from the busy city center of Ahmedabad. Anyone in the sleepy suburb can point the direction of that school because it is one of the famous schools there. We somehow spoke with the school security who was wearing dark blue uniform. We then met with the school principal who was wearing a green saree. We asked her name and she introduced herself as Kavitha. Our heart which was fast pounding till then tried to settle itself in its expected beat range.
We were then taken to the 6th standard, where the girls alone were seen. There were no boys in that class. We saw their uniform and it was pink. "Most of the colors were taken by nearby schools. We had to settle with pink to not confuse our students.", smiled Kavitha when we asked her the reason for pink uniform. Kavitha is a Hindu woman whose religion has associations with Rashtriya SwayamSevak Sangh. It is not a co-incidence that RSS which forces partiarchy on Hindu women has even planted such sexist mindset on this 44 year old woman.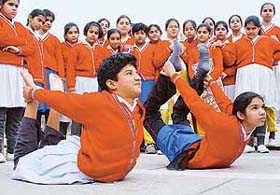 Almost, all of the girls in that class has girl names. 'Heights of patriarchy', we wondered, as we stepped from that class to the next class, which housed 11th standard. Again, this class was full of girls. Most of them had lengthy hair, more than 1 feet. All of them had two eyes, two ears, one nose and one tongue. We asked Kavitha, "Such a patriarchy and sexist mindset of BJP-RSS-VHP that women should have hair, eyes, ears, nose and tongue. Why do you allow such religious organisations to control your students?", to which she was speechless.
Satisfied with the unanswerable Kavitha, we moved on to the next school in the adjoining compound. To our shock, this school has boys alone. We could not spot a girl in any of the classes. "It is well and good that the previous school had girls in it. But, why don't you allow girls in this school? Do you follow the principle of Hindutva that a boy and girl should not sit next to each other? How can you instill such a mindset into the young mind? If this is Hinduism, then I feel bad about it?" – we said to Kavitha who also happened to be running this school. Again, she was speechless for few minutes. Finally, she told us to look at the name of both the schools. But, we weren't happy with her answers.
We stopped one boy playing in the ground and asked him a question, "Have they taught you division in Maths?". He answered, "Yes". His answer shook our conscience. If Hindu-run schools could teach students of division, we are scared about what these students will do to future India.
Imagine, if Gujarat practises such kind of patriarchy even among young students and operates school without girls, what is the future of India? Will Modi implement this scary Hindutva schooling experiment across India in the forthcoming years? Can't we not have influence of Hindutva elements in school?
Note: The schools we visited were (in order of appearance):
1. Sita Devi Girls school
2. Shri Ram Boys school
(See, Ram for Boys and Sita for Girls, typical Hindutva gender stereotyping. Why can't they name Bosco Boys school and Mary Girl school?)
Apologies: We had printed school in title, but it was actually schools.