Fresh news is coming up from Game of Thrones Season 5 shoot, Executive Producer George R.R. Martin has rescheduled the shoot to next month. He has managed to agree other producers to start shoot from beginning by threatening producers.
…. either you start the shoot from the beginning otherwise there will be no sex/erotic scene in this season. You seem to start liking Sansa Stark ayee…!! (Wicked Smile)                    – George R.R. Martin
Martin explained his reason behind this behavior, and shockingly the reason was unexpected. Martin this time has thought and agreed to viewers opinion. Martin decided to increase episode count to 20-22, 2 episodes a week.
The reason behind rescheduling and starting from beginning was Anand Khechi, newly appointed director for GOT.
Martin told our reporter that whole story started when he was in India exploring about Kamasutra, asking people about their sex life and unique Kamasutra poses they use which are unknown to outer world which [Spoiler Alert] he was to use to spice things up between Lannister Brother and Sister" throughout the episodes and Ellaria and Tyrion in last 3 episodes.
Unfortunately he ended up listening "Sab kuch to aap logon se seekha hai bhaisahab humne" and "biwi ko serials se fursat nahi hoti, chipki rehti hai din raat TV se".
He then began exploring Indian Daily Soaps , no sex, no violence, predictable stories, hot chicks ("Bahus") and still famous among Indian "females". After watching series of popular daily soaps, listening to auntyjis of locality and personal visits to shoots, result was nil but he figured one thing in common about India Daily Soaps, "TIME STRETCH". They can make any 1 min. look like 10 min and it looks real.
After watching 2 Episodes of Kasauti Zindagi ki and 3 Episodes of Kahani Ghar Ghar ki, Martin asked auntyji who was accompanying him while watching and guiding through every popular soap
"Martin: Should'nt Komolika be telling the truth the next day as promised to Rishabh Bajaj and what the heck is with Parvati??? wasn't she suppose to break her fast????

Anupama (Auntyjee): yes, but in the next episode, they have not show them going to bed yet

…and don't expect something to happen in bed every-time Martin, they are "Adarsh Bahus".

Martin: Holy Old Gods and New !!!! "
Since then martin decided to hire Mr. Anand Khechi. Famous director of Indian Daily Soaps with track record of running a soap for minimum for 4 years.
Martin says people will enjoy long hours of erotic sex scenes, blood sheds, romance and most importantly he likes to see people cry louder than before when he will kill one character people started to love the most.
     "I have not changed, but has gone more selfish now."     – George R.R. Martin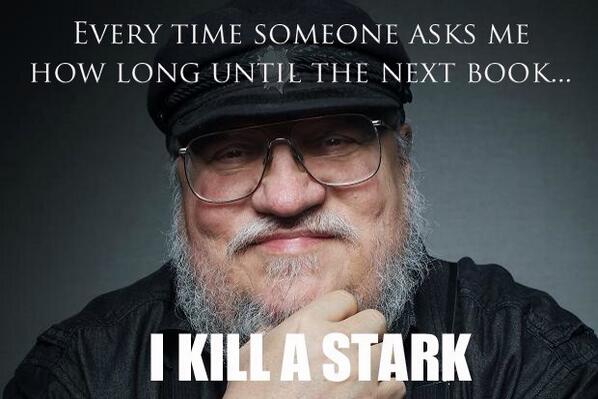 Unfortunately readers [Spoiler Alert] this season a stark will die because of a question during the interview.
Below is a glimpse what alike we might see in Season 5 of Game of Thrones.
Game of Thrones Indian Version Part 1 Game of Thrones Indian Version Part 2